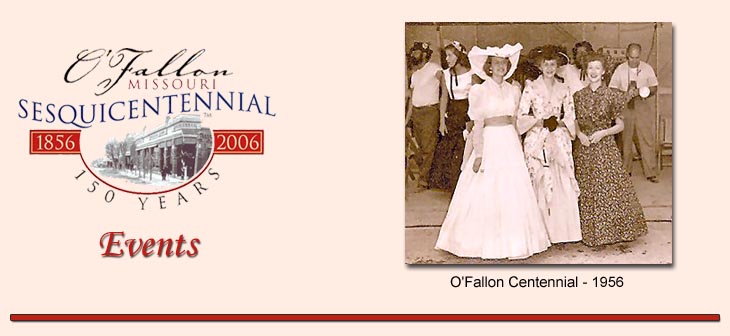 Because so many of O'Fallon's residents are new to the area, the Sesquicentennial Steering Committee decided to plan an entire year's worth of events to provide lots of opportunities to acquaint both new and long-term residents with O'Fallon's history. These are the events that have been tentatively scheduled. Please continue to check our website as information on exact dates, times and places become available.
Flag Raising and Lowering

We will begin the year of celebration with the raising of the Sesquicentennial Flag on January 1, 2006. The flag will bear the logo of the Sesquicentennial and be raised at several locations throughout O'Fallon. The Sesquicentennial Celebration will officially come to a close when the flags are lowered on December 31, 2006.
K-12 Education

What better way to help young people appreciate history than bringing it right to their doorstep? This project is our way of helping students, particularly our newer residents, become acquainted with their community's history.
The Gates of O'Fallon; a photo banner display

Date: April to the end of 2006
Location: Fort Zumwalt Park, Civic Park, Sports Park.

Approximately 150 white banners with sepia-toned images will hang from ten-foot tall poles in a dazzling display depicting life in O'Fallon through the last 150 years. Each banner will bear the name of the business, organization or individual sponsoring the banner. To be initially installed in Fort Zumwalt Park to coincide with the Walking History Tour weekend, the display will be moved to other points in the city at times and locations agreed upon by the Steering Committee and the Parks Board.

Click here to see the Gates of O'Fallon document describing the presentation and all of the wonderful sponsors.

Living History Tour

Date: April 29th and 30th, 2006

Join us for a weekend of celebrating 150 years of O'Fallon's history!

Climb aboard our complimentary trolley for a tour of our City's most notable landmarks.

Tour stops include:

Civic Park, featuring tours of the Historical Society's Log Cabin, including a video on O'Fallon's founding and Old Town, and O'Fallon Fire Department's 1927 pumper, as the Fire Department celebrates their Centennial this year.
Fort Zumwalt Park, featuring the Gates of O'Fallon display, Zumwalt Fort archaelogical dig site, the Train Museum, the Heald Home, War of 1812/Civil War demonstrations, and vendors selling items such as kettlecorn, root beer and ice cream, and Civil War era souvenirs.
Sisters of the Most Precious Blood Convent (right next to city hall campus).
Assumption Church
The trolley will run continuously throughout each day. Parking is available at City Hall and Civic Park. The tour is free of charge, other than concessions and souvenirs.

Click here to download the official flyer for this event.
Click here to download the official poster for this event.
River City Rascals Opening Day - Sesquicentennial Night

Date: May 24, 7:05 p.m.
Location: T. R. Hughes Ballpark

The O'Fallon Sesquicentennial Commitee will have a booth at the opening game of the River City Rascals. All available souvenirs will be available for purchase.

The Rascals will be playing the Gateway Grizzlies. Click here for the River City Rascals Website.

O'Fallon Jammin'

Date: See schedule below
Location: O'Fallon Civic Park

The O'Fallon Sesquicentennial Commitee will have a booth at all O'Fallon Jammin' concerts. All available souvenirs will be available for purchase.

Click here to download the flyer for these events.


Billboard

Date: June to July, 2006
Locations: I-70 and Main Street, Hwy 40 and K.

Two billboards will be installed at the above locations bearing the Sesquicentennial Logo. In the days leading up to the City of O'Fallon's Heritage and Freedom Fest, puzzle-shaped portions of the billboard will be removed to expose a pictorial collage of O'Fallon's history. It's a giant-sized undertaking guaranteed to be a real attention-getter.
Heritage and Freedom Fest

The theme of O'Fallon's 2006 Heritage and Freedom Fest will be the Sesquicentennial. The Steering Committee will have its own float in the parade and a booth at the Festival itself. While most of our events will focus on O'Fallon's history, this event will focus on FUN but it should also be designed to promote participation in the Sesquicentennial.
Cafe Theatre/Chautauqua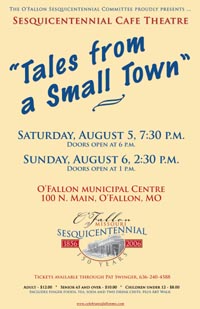 Date: August 5th and 6th, 2006
Location: City Hall Gymnasium - O'Fallon Municipal Centre, 100 N. Main St., O'Fallon, MO.

What better way to learn O'Fallon's history than with a little music, a little drama and recorded stories from the people who've lived our history for themselves? &nbsp Enjoy an evening's entertainment with good food, and good friends.



UPDATE: The play was a smash success with two sold-out shows. A DVD of the Saturday, August 5th performance of "Tales From a Small Town" is now available. Click here to download the order form.
Memorabilia Mania

This event will be a grown-up version of show-and-tell. People love to share pictures and souvenirs with each other and this will be a great opportunity for long-time residents to reconnect with each other and new residents to see and hear our history first-hand. Everyone is invited and the invitation reads: "Bring Your Own Memorabilia."
Sesquicentennial Book

O'Fallon's 150 years of history will be documented in an illustrated history that covers everything from the building of Zumwalt's Fort to WingHaven and include many pictures from the Sesquicentennial Celebration itself. &nbsp It will be a treasure for generations to come; the perfect gift for new and old residents alike.
New Years Eve Party

The O'Fallon Sesquicentennial Steering Committee will end a history-making year of activities with the Sesquicentennial Year End and New Year's Eve Ball, which will be held from 8 p.m. to 1 a.m. on Sunday, December 31, at the O'Fallon Elks Lodge 2587, 1163 Tom Ginnever Avenue, O'Fallon, Missouri 63366.

Tickets are $10 and include food and entertainment. Sales are limited to 300 people. For $10, partiers can rub shoulders with fellow O'Fallon citizens and good friends, and dance to a classic/contemporary rock and roll band - Nickel Jones. Enjoy appetizers, sandwiches, snacks and non-alcoholic beverages all evening. As well, a cash bar will open with low-cost beer, wine and mixed drinks.

To order tickets, contact committee members: Cheryl Hibbeler at (636) 272-8160 or chibbeler@centurytel.net; Wendy Prakop at (636) 281-4497; or Pat Swinger at (636) 240-4588 or Pat@the-journey-home.com.

Click here to download the official news release.